Welcome to Gardening Guide
Learn Rose Gardening Article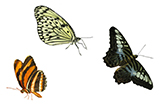 . For a permanent link to this article, or to bookmark it for further reading, click here.
Choosing Rose Gardening Gloves
from
:
Rose gardening requires the right tools, and gloves are some of the most important tools a gardener can own. Rose gardening gloves protect your hands from the dirt, which can significantly dry out your skin and ruin your manicure. But, more importantly, rose gardening gloves protect your skin from those nasty thorns.
Because of the thorns youíre trying to avoid, rose gardening gloves must be thick and durable. Itís important that they are made of a material that is difficult to penetrate, so that your hands are thoroughly protected. Because of this, leather is one of the best materials for rose gardening gloves. Though leather gloves can be expensive, they are very durable and will provide excellent protection for your hands.
When choosing rose gardening gloves, check for a close fit. Youíll often find leather gloves designed to fit menís hands, making them too large for women. And, while itís not impossible to work on your rose bushes in leather gloves that are too large, itís not very comfortable to do so, either.
Kid leather gloves that fit your hands like leather driving gloves are a great choice for rose gardening. The close fit will make working feel more natural. However, with a close fit you must be certain that the gloves are indeed thick enough to protect from thorns, since the gloves will be so closely molded to your skin.
Another type of rose gardening gloves that are excellent to use are the type with the rubber cuff. These gloves typically have leather palms, but have a rubber cuff that extends well above your wrist for extra protection. Youíll find that the extra length on these gloves really keep those rose canes from scratching up your arm.
Finally, take a look at synthetic suede gloves for rose gardening. Synthetic suede is just as thick and durable as genuine leather or suede, but it wonít shrink, stretch or crack. These gloves are extremely flexible and will fit your hands every bit as good as a pair of leather gloves. These gloves are slightly more expensive than others youíll find, but theyíll last forever. And in addition, most extend well up the forearm, so they provide more protection than many traditional rose gardening gloves.
Good, sturdy gardening gloves are a must for any rose gardener. Nothing can take the enjoyment out of your hobby faster than knowing that youíll be miserable while working in your garden. So, shop around to find the right pair of gardening gloves for you. No rose gardener can afford to be without protection when working in the garden.
Learn Rose Gardening News