Welcome to Gardening Guide
211. INDOOR GARDENING LIGHTS Article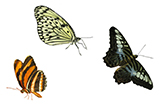 INDOOR GARDENING LIGHTS
from
:
All houseplants need light to survive. They get energy from light just as humans get energy from food. Indoor gardening lights come from two sources. One is the sunlight that shines through windows. The other is artificial light.
There are a few things you can do to maximize the amount of sunlight that is available to your indoor plants. Keep your windows clean. Dirty windows reduce the amount of sunlight your plants receive. Move plants nearer to windows that receive more sunlight. Pale coloured walls, especially white, will reflect more sunlight through the room. Well placed mirrors also help to do this. Remove any obstacles, inside and outside the windows, that block the sunlight.
If your houseplants do not receive enough natural light, especially if you live in a region where winter days are short and the sunlight is not strong, you can use artificial indoor gardening lights. Ordinary incandescent lamps can be of some benefit to indoor plants, but generally they are not well suited for use as indoor gardening lights. The best indoor gardening lights are known as grow lights, and there are two kinds: fluorescent lights and high intensity discharge lights. Your plants will thrive under either type of light. Some indoor gardeners use both kinds. They use fluorescent lights for short plants and for starting seedlings and cuttings. They use high intensity discharge lights for taller plants. In either case, the plants should receive fourteen to sixteen hours of artificial light a day.
There are artificial indoor gardening lights to suit any location in your home: the basement, a closet, under a stairway or on a bookshelf in the living room. For really tight spaces there are small, circular fluorescent lights, though their intensity is not as strong as that of the long lamps. Fluorescent lamps can last up to two years under average indoor gardening use, but many indoor gardeners replace them after a year, when the ends begin to turn dark.
Either the plants or the indoor gardening lights should be supported in such a way that the distance between the plants and the lights can be adjusted. Foliage plants should be one to two feet below the lights. Flowering plants should be six to twelve inches below the lights. You will have to make adjustments as the plants grow.
If your plants are not getting enough light they will have small leaves and will get stem and root rot. There will be a weak, elongated pale green growth called etiolation. There will be poor blooms, or no flowering at all.
If your plants are getting too much light there will be stunted growth, wilting, thick yellowed leaves, downward curling of foliage, and brown spots called burns. Make sure your plants receive just the right amount of light.